Can I use the same username and password for family members?
You can use the same username and password for multiple pages. This is convenient for families with children whose parents will manage the pages.
After registering the first person, return to the Event Web page to register a new person. Alternatively, you can click the Register link in the Get Involved section of your FundEasy page.

If you are logged into FundEasy, choose the Register as Someone Else option, or just c

omplete the registration form. It no longer matters if you are logged in when you register to a FundEasy event.




When you finish registering, you'll be taken to the FundEasy page.

Simply log in with the username and password that you want to use for this page. Each page does not have to have a unique username and password.
In the future, when you log in you'll see a list of available pages with this username.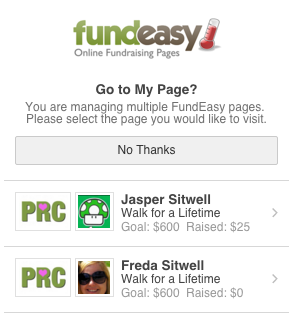 Use the My Pages link to navigate to your other pages. On mobile, you'll click the person icon in the right corner to get to the My Pages link.

Updated 10/13/16